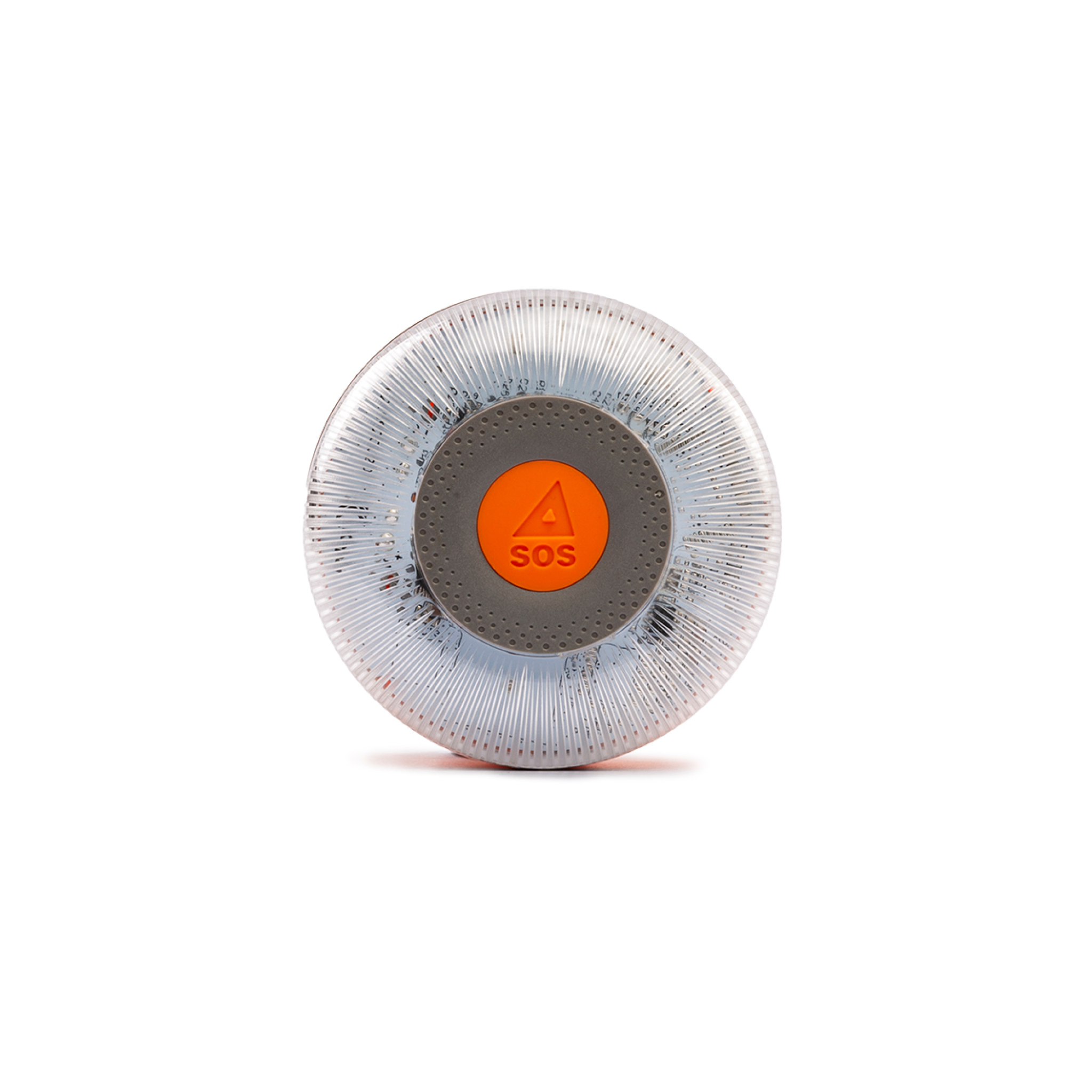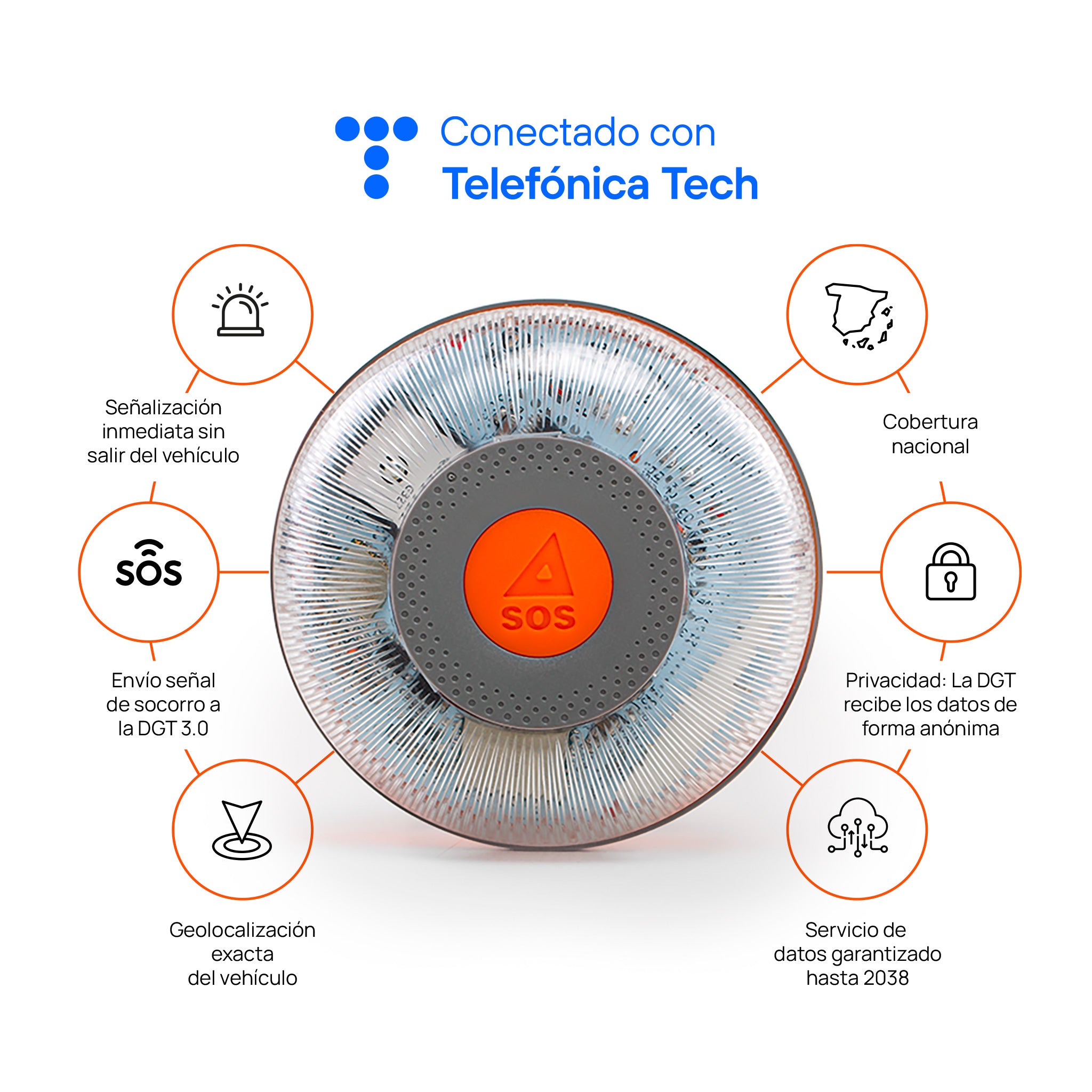 FlashLED SOS V16 with IoT Connected Geolocation
FlashLED SOS accident and emergency signaling light with geolocation system, connected to DGT 3.0 and V16 certification. Designed with all the specifications required by the DGT, it can be used as an emergency signaling system and will be MANDATORY USE from 2026 .
Its built-in geolocation system will be able to report the location of the vehicle completely anonymously. It communicates its activation, deactivation and geopositioning to the national access point in terms of traffic and mobility.
Additionally, the product has a battery indicator and has a confirmation or acknowledgment system in DGT 3.0 that can be validated through the SOS alert mobile phone application .
The product includes a 9V battery for its operation, with a protection system to prevent its discharge before the first use.
GEOLOCALIZABLE LIGHT
PREPARED FOR DGT 3.0 DATA
INCLUDED UNTIL 2038
main features
Visibility 360º /1 km
LED light system with a 360º field of visibility, guaranteeing its range over 1 km away.
V16 signal with geolocation
Built-in geolocation system. Reports on the location of the vehicle communicating activation, deactivation and geopositioning in a totally anonymous way.
Service included until 2038
Communications service with Telefónica Tech, with the cost of communications and data service included and guaranteed until 2038.
Acknowledgment in DGT 3.0
Confirmation service on correct connectivity and notification sent to the DGT 3.0 connected vehicle platform, which you can validate through our SOS alert mobile phone application
Battery check
System built into the device to check the status of the 9V battery included with the product.
Magnetic base
Magnetized fixing system to remain stable on a flat surface, not moving in the face of air currents of 180 Pa.
Dust and water resistant
IP54 degree of protection and guaranteed operation at temperatures of −10 ºC and 50 ºC.
DGT 3.0
Manufactured in accordance with current safety regulations and approved by an LCOE accredited laboratory, according to DGT requirements, FlashLED SOS connects to DGT 3.0 through Telefónica Tech.
V16 light connected with Spanish design and manufacture
Thanks to our extensive experience, we develop and produce our own products in Spain.
High quality standard
All our products are tested and manufactured to guarantee the highest quality.
Easy and safe handling
Activate it, place it in the vehicle and connect it to the APP easily and safely
FlashLED SOS V16 with IoT Connected Geolocation
emergency beacons
SMART SECURITY
We have been developing products for more than 30 years, with a single goal: to save lives in an intelligent way.
Innovation
LEADERSHIP
We cultivate relationships that are as lasting as they are beneficial. The loyalty towards our clients is only comparable to the passion for our work.
FAQ
Where is the V16 beacon placed?
The FlashLED V16 emergency beacon must be placed in the highest place in the vehicle, since it will thus be visible from a greater distance and always as horizontal as possible with respect to the ground, due to the direction of the light beam. In cars, the emergency light can be placed on the roof or even the arch of the chassis in cases of glass roofs, or on the driver's door panel (always in the place most exposed to traffic). On mopeds, it must be adhered to a metallic surface of the bodywork.
When is V16 mandatory?
Following the recent approval of Royal Decree 159/2021, the FlashLED V16 emergency light , in addition to being recommended by the traffic authorities, will also replace the emergency triangle, if desired, from July 1, 2021 and will be valid until January 1, 2026 , when it will switch to a system of connected V16 beacons that will soon be on sale.
Are they approved?
The DGT recommends the use of V16 emergency lights approved by Applus IDIADA in accordance with the regulations required by the DGT (numbers PC19010175, PC19080098, PC19010266).
All Flash LED V16 emergency lights meet these requirements.
Is it safe?
You can use the emergency beacons without having to get out of the vehicle or remove your seat belt, which guarantees greater protection.
Thanks to their design, you can place them on the roof of the vehicle safely and quickly. You will have immediate signaling capacity in the event of any breakdown or accident.
*From July 1, 2021 you can replace the triangles of your vehicle with the approved V16 beacon.
Documentation
Normative
The DGT emergency beacon regulations were approved by Royal Decree 159/2021 of March 16.
For more information, you can access the following link: HERE
FlashLED is one of the few brands with the approved V16 certificate and that comply with the new DGT approval.
Certificates
FLASH LED is approved by the General Directorate of Traffic (with LCOE Certificate No. 2020040382G). This V16 signal is recommended, from July 1, 2021, to replace the current signaling triangles on the road.
Through the following link, you can find more information about the different certificates and the new Royal Decree 159/2021
See Certificates: HERE
Patents
At FlashLED we design and patent our products to guarantee your maximum safety, thanks to the set of exclusive rights granted to FlashLED for its intelligent V16 emergency beacon products.
Patent: HERE
About us
Mission
At FlashLED we are committed to innovation and design, creating smart products thanks to the latest technology.
Vision
To be the national reference in intelligent road safety products.
Facilitate the life of the user, creating a better technological future, with a quality service accessible to all people.
Values
Innovation
Quality and design
Perseverance
Responsibility
Passion